October starts tomorrow and the forecast high is only 64 degrees. I hereby declare that it is officially sweater season.
And because I am crazy that means I really need to get working on the sweaters that have been living in my head.
First and most importantly is the sweater that I promised Father for Christmas. He declined to participate in the pattern and yarn selection so this is what I've chosen for him!
The only thing I'm unsure of is if i want to keep the cables on the arms or if stockinette arms would look better.








Men's sweaters require ridiculously large amounts of yarn. Also please ignore the fact that I almost immediately messed up one of the cables when i was knitting the gauge swatch.
Up next I decided to try my hand at another crochet sweater. I'm actually hoping I can finish it in one month. Crochet is totally fast, right? I am probably delusional.
I'm not a huge fan of most crochet sweaters but I like the simplicity of this one.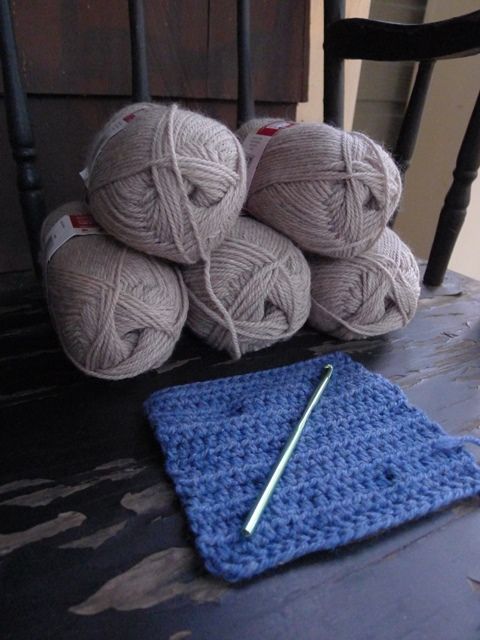 And my yarn. The swatch is a different color but it was the same yarn. I'll add the trim and decor colors later. Also the yarn is cream/tan not grey. I was trying to take pictures at dusk.
And lastly I want to make this awesome sheep-y cardigan because it's awesome. Happily for my sanity I don't have any real or self imposed deadlines for this sweater. It has a steek which is when you knit the whole sweater as if it was a pull-over and then cut it to make the cardigan. I'm excited and scared at the same time.
Due to the quantities of yarn that I found on sale I anticipate switching the grey and the blue for my own sweater.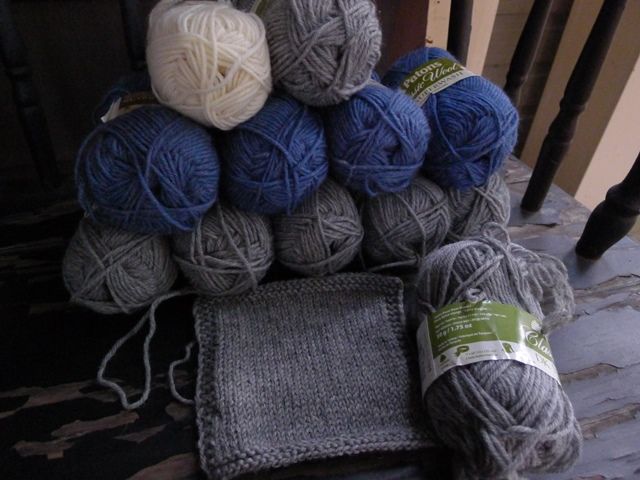 A word to the wise: Don't leave your swatch in progress out in the craft room. The cat might decide the skein of yarn looks fun and you'll find it downstairs in the living room where you can follow the yarn trail up to the swatch on the needles still upstairs.
Time to get crafting...