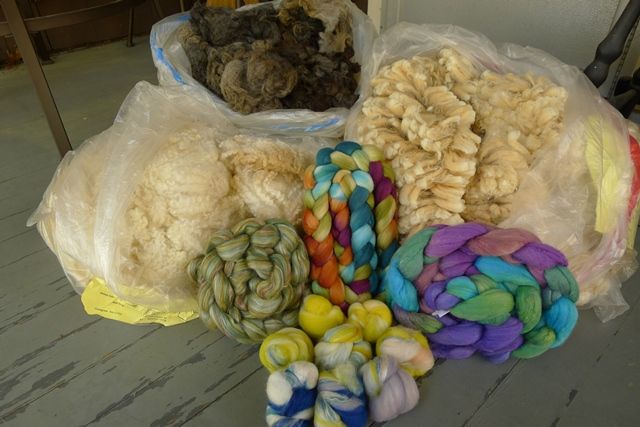 It was around 1 o'clock before J and I actually began visiting various vendors to do our more "normal" shopping. Per my plan/shopping list going into the event I never found a good source for raw angora. But that's ok since the place where I purchased the fiber I used before is local and I won't mind visiting again at some point. In the end it became the year of (mostly) hand dyed wool-silk rovings.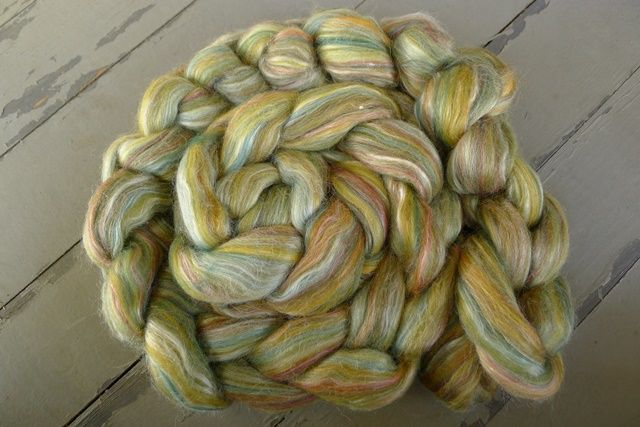 This green and neutral tone blended roving is actually an Ashland Bay commercially produced roving. So not as exciting as some other items. But the price was great and I'm actually thinking that it is the same process/producer as the Snapdragon fiber used to knit my recent lace shawl. Since I am also worried that my plans/ideas for spinning up the other hand painted rovings (lace but still maintain the vibrant colors) may fail this one I know can always be a winner for that particular type of spinning.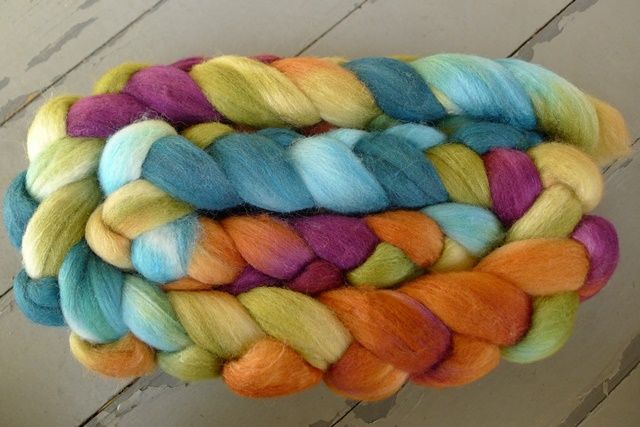 Into the Whirled has been on my radar for a number of years and I'm not really sure why or how. They have awesome color combinations that are labeled with super geeky names. I've visited their booth each year at MDSW but never purchased anything. I think a good bit of the problem is that I like so many of the options I can never choose so I would move on. This year however I was determined to pick something awesome. I made it a little bit easier for myself by going in knowing I wanted a wool/silk blend. After a good bit of internal debate I narrowed it down to two excellent options. And after even more consideration made my choice (based largely on not wanting to choose colors that were so similar to another roving I had my eye on). The colorway is called Walla Walla. I feel like I should know what this reference is. But I don't and I couldn't even find it on the interweb. Shucks.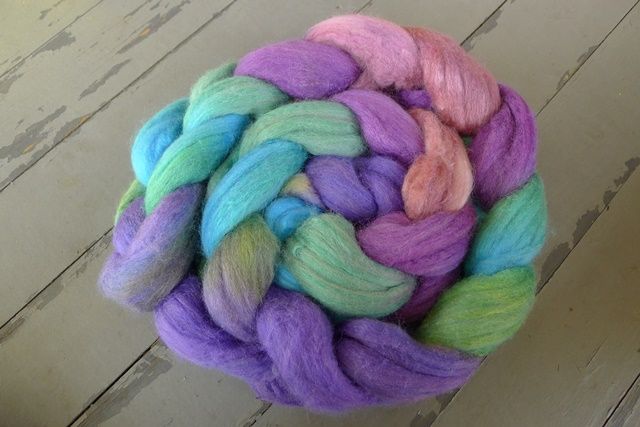 Gales Art is where I first found trindles 5(?) years ago. Since I am now a trindle junkie it only seems appropriate that I have also become obsessed with Gales wonderful rich vibrant dyeing. A few days before MDSW Mr. or Mrs. Trindleman had posted on facebook encouraging selfies from Gale's booth. Being the overachiever that I am I fully intended to do just that. I stopped by the booth earlier in the day but things were still pretty crowed. I didn't want to be in the way plus I am rather self-conscious. So I snapped a quick picture but also inquired as to how late they would be there. My eye had also been caught by some gorgeous long drapey silky braids of roving in the corner of the booth. Later in the day when the crowds had died down I returned, claimed the fibery-goodness, and snapped this dorky selfie.
The revelation of this years MDSW was for me Hobbledehoy Yarn and Fiber. I absolutely love love love pretty much all of her crazy batts. The texture and the vibrant colors are so wonderful. She has been vending for quite a while so I'm not entirely sure what it is that drew my attention this year. I suspect that my fiber tastes are growing and changing, which is awesome. Plus it does help that I am (dangerously) becoming more willing to spend for the good stuff. After much deliberation I finally choose these lemon blueberry battlings. Despite what I just said I'll still confess that the lower price drew me. And while I'm not sure about going with fiber that matches my old high school colors there is just something so fun about these little batts.
I am very happy with my haul. Now it's time to get spinning.