Having tea has become one of the most beloved holiday traditions among the ladies of my family. This year I went with my Mother and Aunt back to one of our favorite tea rooms: The Talking Tea Cup,
www.thetalkingteacup.com
. There we each selected one of the holiday teas they had on the menu. Mothers choice of Chocolate Pomegranate was declared the favorite choice. It was good enough to purchase some to take home with us. And I am even luckier since she did all the buying but was still kind enough to send half of the tea home with me!
[caption id="" align="alignleft" width="225"]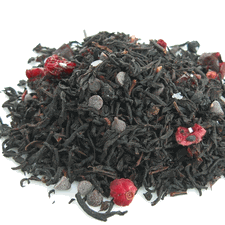 I cheated and found this picture on the interwebs.[/caption]
Chocolate Pomegranate is a black tea that also has little mini chocolate chips and bits of dried pomegranate spread through. It brews a deep brown cup of tea.
The aroma is quite possibly the best part of this tea. The fruit gives a wonderfully tangy note to the rich smell of chocolate that dominates.
Tasting the tea after smelling is quite surprising because the chocolate falls into the background. Instead you get a wonderful rich tea with the fruity and not at all tart taste of pomegranate. The chocolate however is still present its more of a warm background sometimes almost aftertaste.
It is quite excellent and I highly recommend it for something quite different but good.