I, of course, submitted a bunch of fiber exhibits to the farm show as well.
[caption id="" align="aligncenter" width="640"]
I took a new picture but I don't know where it went. You get this from back in the fall.[/caption]
First up was this jacket/sweater. This was knit up using Rambouillet yarn that I made from a fleece purchased at MD Sheep and Wool a few years ago. It is such a weird fiber. It almost has spongy like qualities. The project was not, in my opinion, particularly excellent work. Handspun makes things tricky (especially when I was learning a new spinning technique, and I actually ran out of yarn and was making more which is never ideal. But it was the best option I had for the knitted garment category. I like the clothing and textile categories because they give comments on their judging. The primary problem the judge pointed out was that I had blue pockets on the inside which she (assuming) didn't understand.
Next was my knitted accessory. This is a tricky category because so many of the items I create fit into it and you can only submit one. I went with my Sochi Faberge. It was knit using handspun alpaca (Lance and Max) entirely during the 2014 Winter Olympics. I thought the pattern was an excellent tribute to the Russian hosts and I used gold, silver, and bronze beads to tie in with the Olympics. As much as I love this project it has a few visible mistakes so I was on the fence about submitting it. They do say however that often ones self is ones biggest critic as seems to be the case since I got third place! The judge left the comment that "tough category, many entries, keep entering". Which makes me feel extra awesome since perhaps she was indicating that it may have deserved an even higher place if not for the volume of entries.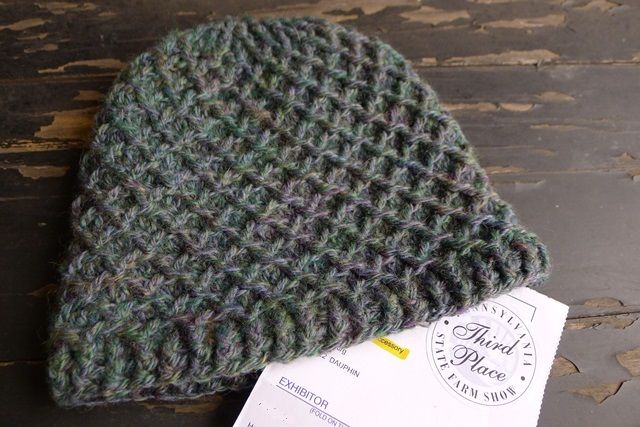 In December when I was pre-registering everything I decided I should whip up a crochet accessory. I found this awesome looking hat on Ravelry and filled out all the forms. Later when I was actually crocheting I found that the pattern was a bit tricky. As I was reading comments from others who had made the hat I saw that someone actually entered a hat using the same pattern last year and won the category at the PA Farm Show. It felt a bit weird to be entering it after that. But I got the hang of the pattern and really liked the effect. And it got third place!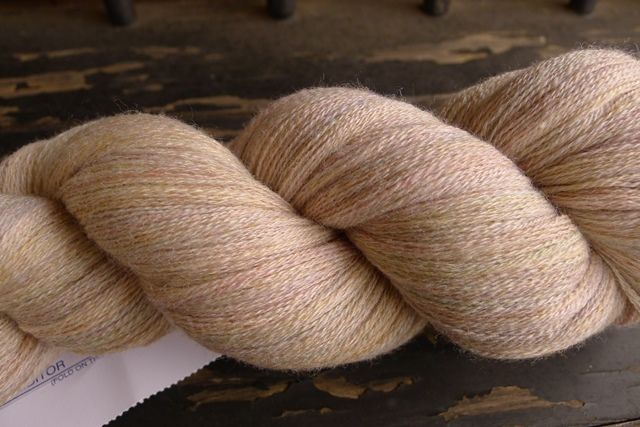 Handspun yarn being the first category I ever entered I was aiming to have a strong contender. Spun during this years TDF there are over 1000 yards of this silk merino blend from just 2 oz of fiber spun using a trindle. I absolutely loved it and had high hopes. But alas, nothing. Doubly unfortunate is that there are no comments from the judges for anything but clothing/textiles so I don't know what they are looking for. Ah-well now I get to think about what I can make for myself using the yarn.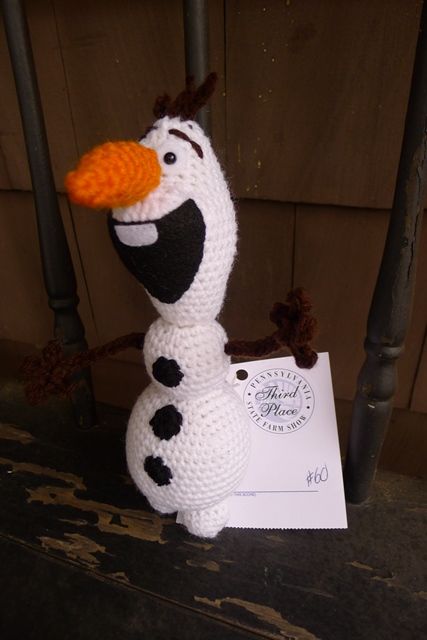 I think I first saw a crochet Olaf appear on the facebook page of a friend. I thought it was awesome and hunted down the pattern and promptly made one the following weekend. It came out well but he was rather top-heavy. So I added my own improvements of pipe cleaners through his middle, rocks in the feet, and pipe cleaners through the arms. He was a big hit when I had him displayed in the office. And he got a third place. Oh! One last thing. At first I was going to enter him in as a "cloth toy - animal". But then I realized he should probably be a "cloth toy - doll" which allowed me to choose another animal entry.
Lastly I entered a knit hedgehog. These are the same hedgehogs that I was making en-masse back in the spring when the trend was started as a gift project and then steam rolled into hopeful gift shop sales. I actually underestimated the amount novelty yarn needed and had to re-knit nearly the entire "quills" portion to get hedgie finished. But I'm glad I did since he got my one and only first place!
[caption id="" align="aligncenter" width="640"]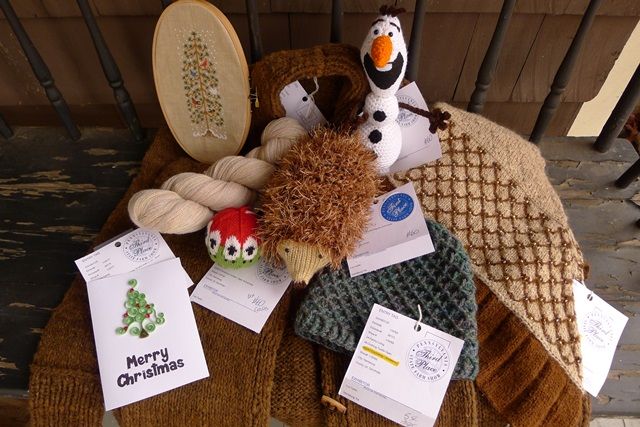 Everything[/caption]