As promised here is part 2 of my MDSW visit. Part 1 was posted yesterday.
When it came time for lunch we had a plan. One of the complaints that I have heard about MDSW is the variety of food available. Most of it is typical/junky (and I mean that in a loving way, I definitely have a place for fried food in my heart and stomach) carnival type food. Plus J is a vegetarian which limits the options. Last year however we found a super excellent spot that had a few cheese vendors. One of them even had a cheese and cracker plate which we happily feasted upon. The three of us were salivating just thinking about recreating the same this year. Not to be outwitted in case things had changed I even packed my own crackers, just in case. But sure and happily enough they were there again. Some of the leftover goat cheese came home with me along with a delicious second sheepy selection.
Once back to the shopping I found all of my final purchases in the big barn. As someone who is highly appreciative of some soft fiber and constantly on the lookout for a good bargain I was super excited to find these batts of baby llama and angora. They are sure to be a dream to spin and I'm already contemplating as to what type of project I can knit that will ensure maximum enjoyment of the soft.
[caption id="" align="alignright" width="331"]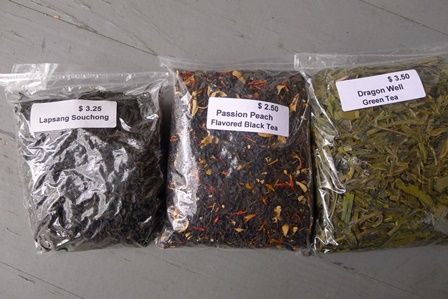 If nothing else they sure do look pretty. It would actually be quite fun to make a project dyed with various "shades of tea"[/caption]
Rather surprisingly in amongst the other fiber and assorted handmade goods I found a vendor selling a variety of loose leaf teas. Given my recent growing tea obsession I couldn't help but pick out a few. I went with one very typical me fruity black tea but then tried to broaden my horizons and try other types that had names I recognized as being a more basic variety. So far I've tried and enjoyed the Passion Peach. The green tea I think will take a bit more time to appreciate properly. Research indicates that the Lapsang Souchong is a type of smoked tea. I'm a bit worried that the smoky-ness seems to have permeated the other selections possibly even to the detriment of the green. I have them stored separately now and am waiting to see if things change with time.
Aside from the raw fiber one of my other primary targets for the day was a shawl pin. I have found the knitting of shawls to be quite the addiction and I am also quite fond of wearing them. But for these seemly small items to cost $30+ really just blew my mind. I never found any that I deemed worthy enough.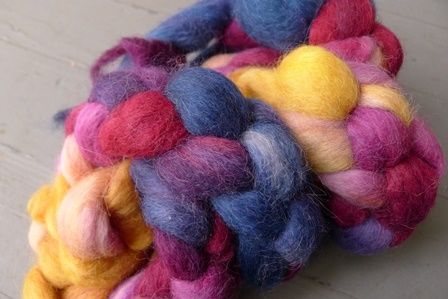 So having been somewhat restrained in my purchases I decided to loop back and treat myself to some fun reasonably priced and super soft amazing fiber. This is 100% alpaca. I have a bit over 5.5 ounces and I can't wait to spin it up but so far I have no idea how to spin up the fiber, particularly as it relates to the colors, or what my end knitted item will be. Probably a shawl its kinda my default anymore :-)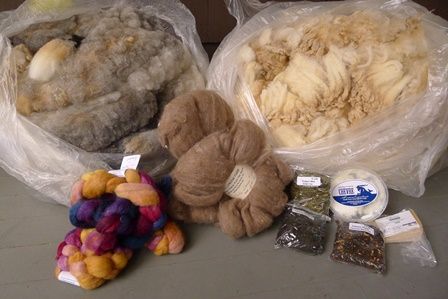 And that in a, rather large, nutshell was my MDSW experience. Typing all of this up has me itching to keep playing with all of the wonderful goodies!