So I "may" have become a bit obsessed with the making of the bunnies.
Final count: 4 colorful crochet rabbits. 3 knit rabbits with sweaters, 2 knit rabbits without sweaters.
I was actually quite on the cusp of making more but really I should already have mailed them yesterday and then I hit somewhat of an exhaustion wall during last night's crafting time anyway. After taking this photo the most that happened was adding some duplicate stitch flowers on one of the sweaters. And even that was a bit of a stretch.
But the critters were thrown into a box. Box was wrapped and taped up. And this morning I left it out to be picked up. Using the super fun electronic tracking data I was able to tell that it was retrieved from my porch early this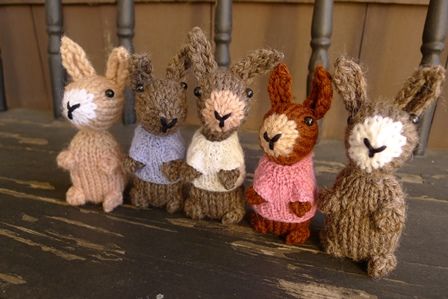 afternoon. It is due to arrive at the Schwenkfelder Library and Heritage Center by Friday. USPS really is quite an amazing (albeit flawed in some ways) organization.
Having now completed this task and even taking into consideration aforementioned wall of exhaustion I am now really itching to keep making bunnies this time to keep for myself and then some to give to friends and family.
Except that I'm running up against the next deadlines already. Ooops. More on that tomorrow.