To get the ball rolling I thought I'd share with you my current WIPs (Works in Progress).
Awamaki: The story of this yarn/project needs a few posts of its own but in recent history this project has become my I-can-take-this-anywhere project and is largely being accomplished during my lunches at work. I absolutely love the yarn and the pattern is great but I'm worried the finished project will be a bit on the short side.
Yarn Eater: This project was started almost 2 years with the goal of using up gobs of the random acrylic yarn that has been donated to my stash over the years. When I got caught up in lots of other crafty objectives the project was set to the side and more or less forgotten. But it has come back out lately and nearly doubled in size! I feel like I'm never quite so good at random as other folks but hey it will serve its purpose of using up my yarn and keeping me warm even if the finished blanket is kinda ugly looking. Its a good anytime brainless project although being a blanket its no good for traveling.
Needle Felting: My alpaca benefactor and the reason I do any spinning at all asked back in December I think about the possibility of some-what life like alpacas from the fiber of the animals itself. After much thinking, and finishing lots of other projects that were first in my personal queue, I managed to create a somewhat decent prototype from some scrap wool. Working with alpaca itself and getting the project(s) perfected will surely be a pretty large undertaking but I really ought to get rolling on this.
[caption id="" align="alignleft" width="189"]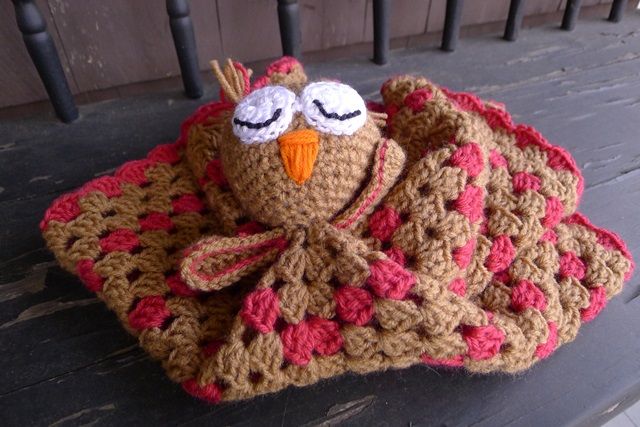 I'm thinking perhaps some of these animal blankets. (Available for sale in my store [see tab at the top of the page!])[/caption]
Only in my head: I recently found out that part of Brandon's extended family will be getting together in early April. There is also a cousin who is pregnant and another cousin with a rather young child. This obviously calls for some baby crafting. I don't have much time but my first thought was sweaters. My second thought was that was a bad idea and I should go with the super cute blanket animals. My third thought is that I really ought to check with the more immediate family to see if I ought to be keeping any limitations or colors in mind. And after all this thinking I really need to get working. Time is of the essence!