While not being sidetracked by weather, work, cleaning, and or Easter eggs I have managed to produce some bunnies: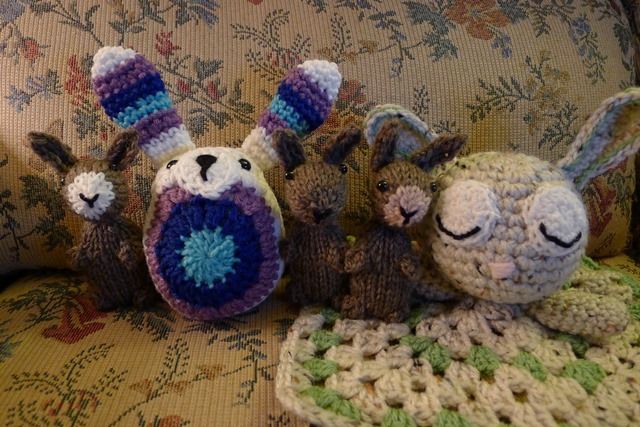 Blanket Bunny. More bunny yet than blanket, but super cute no matter how you look at it.
Fuzzy Mitten Bunnies. The pattern is
available for sale here
. I highly recommend it. The only major modification that I recommend is knitting the pattern in the round. As published the critters are knit flat and seamed but that seems to me just to be unnecessary work and tedium. These guys will go to the Schwenkfelder Library and Heritage Center and then hopefully be sold! I will likely try to knit up at least a sweater or two for some of them.
And the random colorful crochet bunny is a random fun addition first seen I believe on pintrest. The pattern is a free pattern
available here
. He feels very trendy and in line with what folks like these days. Although that could just be what the artsy-craftsy-ravelry people like and I could be totally misjudging things. He was pretty simple to make, although inevitably took longer than I anticipated. I'll probably try and make a few more. It's fun to put the colors together and its the perfect use for the eyes I purchased that are too larger for my other critters.
Here's to staying on track with at least one bunny per day. Tomorrow is a band rehearsal evening so it could be tricky.